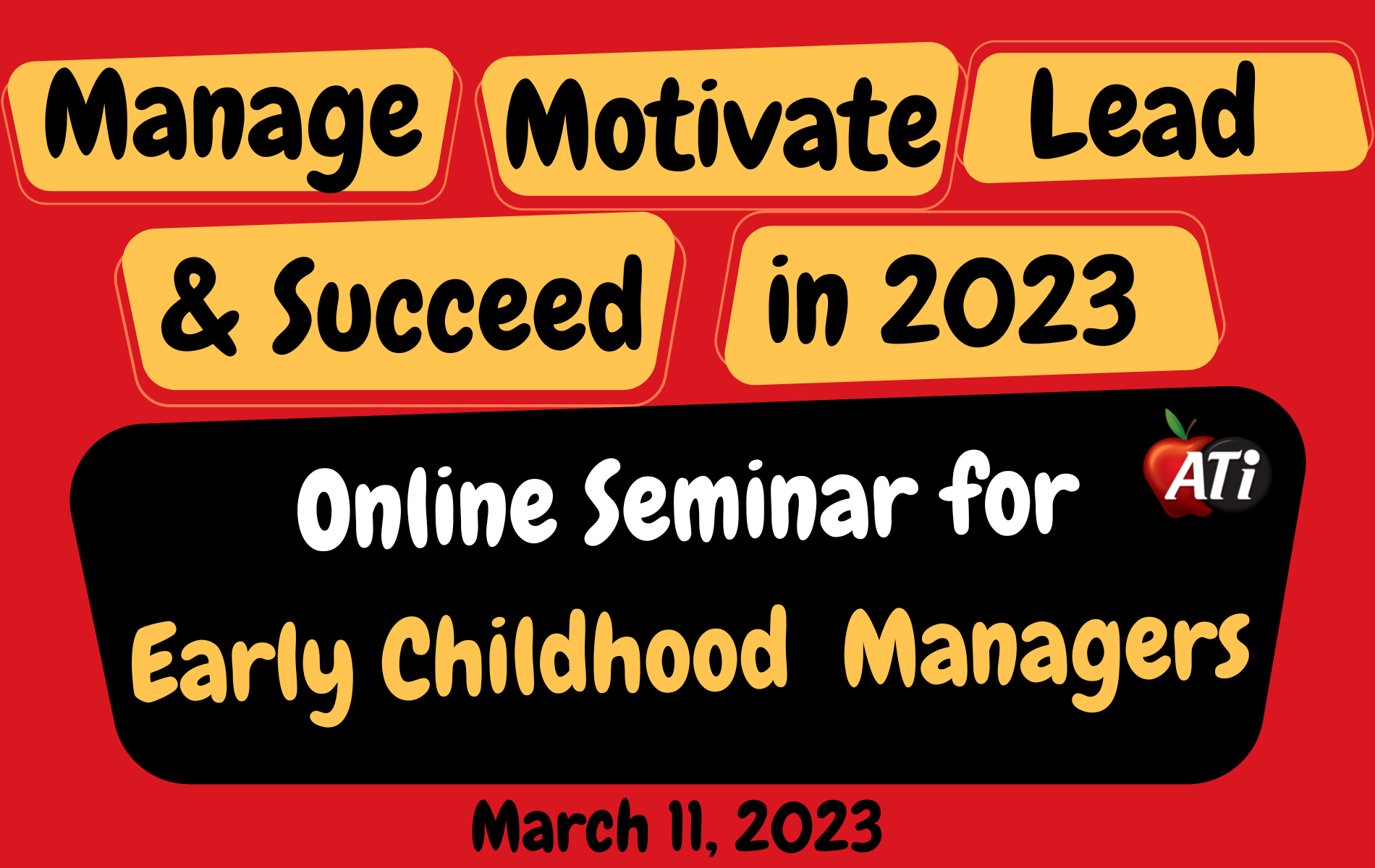 Manage, Motivate, Lead & Succeed Child Care Managers Seminar - Online
LIVE • Online


March 11, 2023
8:30 am to 1:30 pm Central

U.S. Time Zones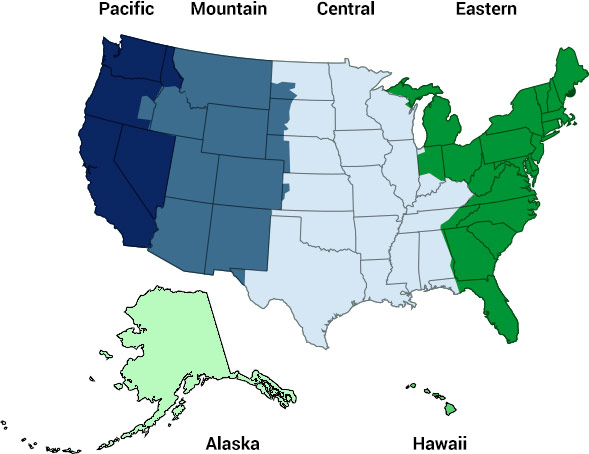 This Seminar Begins At:
4:30 am
Hawaii Time
5:30 am
Alaska Time
6:30 am
Pacific Time
7:30 am
Mountain Time
8:30 am
Central Time
9:30 am
Eastern Time
Credits: 0.50
Earn 5 Clock Hours When You Pass Exam
Seminar Pricing:
$53.99
---
Great News!
It is not necessary to purchase the end-of-course true/false quiz! It is included in every webinar purchase.
Watch LIVE or the recording within 2 weeks of the broadcast date - The recording will be removed on March 26, 2023.
Please filter our trainings by state to see if these types of trainings are accepted in your state registry system.
The states below states require specific guidelines for online training
* Missouri Those in Missouri who wish to receive MOPD credit must take their end-of-course exam no later than noon on March 13, 2023. Be sure your MOPD ID number is listed in your Appelbaum account profile in the "State Registry ID" field.
* Minnesota Those in Minnesota who wish to receive DEVELOP credit must take their end-of-course exam no later than noon on March 13, 2023. Be sure your DEVELOP ID number is listed in your Appelbaum account profile in the "State Registry ID" field.
* Oklahoma - After you complete your end-of-course exam, please call us or email info@atiseminars.org to request that your credit gets entered into the CECPD registry system.
---
You do not have to choose. All of the following topics will be covered.
* Operation Excellence for Finding & Hiring Staff in 2023
STAFFING, STAFFING, STAFFING. That's what it's all about in 2023. Where and how to find staff that really want to work * Learn what no longer works and what "does" work. Receive keys for finding staff even in a difficult hiring climate. Learn what to say and what to do. Keys to success in hiring

* Answers You Need for "Icky Sticky" Child Care Situations!
Have you ever thought to yourself, "What do I do now?" Here are strategies to use for those child care dilemmas. * Staff call-ins * Complaining parents * Parents who bring their children to child care sick * Staff cell phones * Staff drama * Gossip * And lots more.

* Say, "Bye," to "I'm stressed and overwhelmed," and say, "Hello" to "I've got this!"
Child care managers often have heaps of stress coming at them from all directions, and it's hard to turn it off even after the last child and staff member leaves at the end of the day. Beat stress before it beats you. Receive expert-tested strategies that you can immediately implement to feel better at the end of each day

* "I love working here." 20 Power-Packed Ways to Motivate Staff So They Don't Quit
"Oh no! Not again!!!" You may find yourself saying this when staff quit, often without any notice! Staff turnover can be one of the toughest issues facing early childhood managers. Learn effective strategies for building a team in which everyone wants to participate. Receive motivation strategies that work, and stop staff turnover

* Difficult Staff? Difficult Parents? Going from Conflict to Cooperation
Difficult people can spread problems throughout your center * Powerful tools for managing the most difficult parents and staff * Get skills and tools you can immediately implement when you have a difficult parent or staff member

5-Hour Certificate
After viewing the course, pass a brief follow-up true/false exam for your 5-hour certificate. You will not be able to answer the questions until after the seminar ends. If you watch the seminar, you will be able to easily answer all questions. Those who answer less than 70% correctly will be required to pay a $5 retake fee. No need to worry - failed exams are rare.
You will find the exam in your EXAMS TO TAKE tab.

---
Regular Registration
NO LATER THAN March 9, 2023
Group size 1-2 people: $53.99 per person
Group size 3+: $48.99 per person
Late Registration
After March 9, 2023
Group size 1-2 people: $58.99 per person
Group size 3+: $53.99 per person
Category: Management & Leadership
---
Presenters:
Dr. Maryln Appelbaum

You're in for a treat! Maryln Appelbaum is totally amazing. Her laughter is contagious, and so is her love of teaching children. She captivates, motivates, inspires, entertains, and wows audience members with her stories, strategies, songs, and her VERY special laugh!

Here are just a few of the things that audience members say about Maryln.

"Real life scenarios, it was as if Maryln knew the kids in my school and had been in our classrooms."

"Her laugh is a TEN, and so is this seminar."

"Absolutely outstanding!!! Maryln is knowledgeable and sympathetic to the struggles of teachers."

"After 21 years of teaching, Maryln GAVE ME NEW IDEAS to take back to my classroom."

"Very few things get better with age. Maryln is among those few. You must attend a training with her."

"Simply the best. Need I say more."

"Feeling excited for Monday to incorporate everything being taught."

"So much fun being here and learning so many great methods that can make me a better teacher"

"I love her laugh. Every time I hear her laugh, I smile."

"Maryln, is spectacular. Never thought I would see you do downward dog in front of an audience."

"Love your training. You inspire me to be the best I can be."

Maryln is sometimes called "The Child Care Guru" because she has answers to the tough questions when working with children. She combines her education of both undergraduate and graduate degrees in education and psychology, and her early childhood experience as a teacher, director, and owner of 3 early childhood centers. She has written more than 30 books for early childhood, appeared on TV and Radio Talk Shows. Tens of thousands of early childhood teachers get her daily "Message from Maryln" emails that give them strategies, inspiration, and hope. She has spoken to hundreds of thousands of audience members. They go back to work motivated and excited to implement what they have learned. You and your staff will too! Get ready for an awesome day filled with joy, laughter and learning.