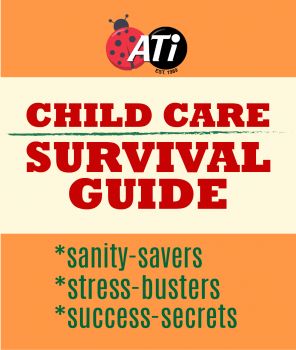 Child Care Survival Guide
ON-DEMAND SEMINAR
Watch Anytime
Earn 5 Clock Hours When You Pass Exam
Pricing:
$34.00
---
*This course may not be approved in your state. Please "Choose Your State" from our homepage to filter only trainings approved for your state.
Registration size 1-4 people: $34 per person
Registration size 5+ people: $29 per person
Watch the Recording at Your Leisure.
---
4 TOPICS
20 Sanity-Saving Solutions to STOP BITING!
Biting can be one of the most frustrating misbehaviors, and typically the one that parents complain about the most * Get strategies that work to prevent and stop biting * Learn why children bite * The different types of bites and what do they each mean * 20 Sanity-Saving Solutions to Stop Biting
30 Great Stressbusters for Teachers of Young Children
Do you ever feel overwhelmed and over-stressed? Learn great stressbusters to handle stress and take care of yourself * 20 awesome stressbusters that will boost your spirits in a snap * Get refreshed and recharged and feel better than you have felt in a long time.
20 Solutions for Stressed and Aggressive Children
Ever hear things like this from children? "No, You're mean." "I don't like you anymore." Sometimes children who are stressed, exhibit angry and aggressive behavior. Other times they may withdraw and hold it in. Learn what to do and what not to do * Get 20 effective solutions to help children who are stressed and aggressive.
10 Secrets of Highly Successful Child Care Classrooms
10 Time Tested Strategies to Make Teaching Easier and Better Teaching can be tough. Learn these time-tested strategies to do each day to make the day brighter for you and for the children * Easy to implement ways to make your classroom better * Use these strategies and children behave better * Make every day a great day!
5-Hour Certificate
After viewing, pass a brief follow-up exam for a 5-hour certificate. (Retake fee $5)
CDA CANDIDATES: This training can be applied toward the CDA formal early childhood training requirement of 120 hours.
Category: Child Growth and Development Professionalism
You Might Also Like
E-Book
6 Clock Hours
$36.00