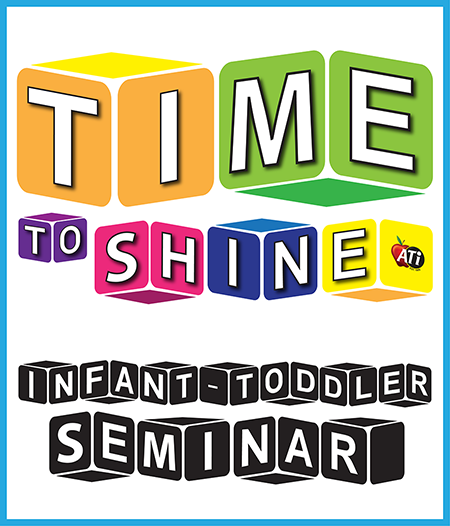 A Time to Shine: Infant & Toddler Seminar
ON-DEMAND SEMINAR
Watch Anytime
Earn 5 Clock Hours When You Pass Exam
Pricing:
$34.00
---
Join Maryln, Marty, and Doug for a FUN-filled webinar PACKED with tips, tricks, strategies, and activities for infants and toddlers!

FIVE TOPICS
* Must Knows for Brain Development and Learning
How to nurture the brains of children * How and why the early years are vital to brain development * Facts about the brain's development in the first years of life * Get the insider's scoop to help all young children succeed

* Keys to Success for Great Beginnings with Tots
There are all kinds of personalities you may see. Learns specific types of temperament and what to do for children like children who are easily frustrated * Children who are outgoing * Children who are bigtime reactors * Learn about all these types of personality types and how to tune in to foster their development

* "Grow" Language and Communication
Did you know that babies can communicate from the moment they are born even though they have no actual words they are saying? Receive terrific tools to understand and communicate * Discover the typical stages of language development * Great tools for language acquisition

* Sing, Laugh, and Have Fun Activities
Music is powerful. It can help enhance vocabulary, help children explore, create, play, and have fun * How to become a musical mentor * Lots of fun songs you can do with infants and toddlers

* No More Misbehaving! Tools for Tantrums, Biting, and Tots who say No!
Do you have tots that say "No," over and over again? Tots that don't share? Tots that Hit? Tots that push and shove? Tots, that Bite? Tots, that have temper tantrums? If you said "yes," then look no more. Get the answers you need!
5-Hour Certificate
After viewing, pass a brief follow-up exam for a 5-hour certificate. (Retake fee $5)
CDA CANDIDATES: This training can be applied toward the CDA formal early childhood training requirement of 120 hours.
Category: Environment & Curriculum Child Growth and Development Child Discipline/Interactions